Blog
THE PARIS-BASED TRENDY-CASUAL BRAND SANDRO—WHICH HAS A LONG HISTORY OF MINING THE MUSIC WORLD FOR ITS CAPSULE COLLECTIONS'—LICENSED THE NAME AND LIKENESS OF REGGAE LEGEND BOB MARLEY FOR A QUARTET OF SPRING AND SUMMER 2018 MEN'S PIECES. THE EXCLUSIVE FOUR-PIECE CELEBRATED THE INTERNATIONAL CULTURAL ICON WITH A RED, GOLD AND GREEN T-SHIRT PRINTED WITH MARLEY'S NAME AND FACE; A BLACK T-SHIRT WITH BOB MARLEY ENCIRCLED BY THE TUFF GONG SEAL; AND A WHITE LINEN T-SHIRT WITH GRAPHICS INSPIRED BY HIS ICONIC 1977 EXODUS ALBUM; AND A BLACK HOODIE WITH THE TUFF GONG LOGO PRINTED ACROSS THE CHEST AND BACK.   ...
---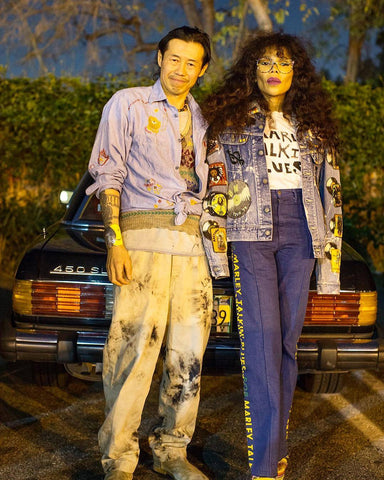 LOS ANGELES, CA- FEBRUARY 08, 2019- ICONIC JAPANESE DENIM BRAND KAPITAL COLLABORATES WITH CEDELLA MARLEY, DAUGHTER OF BOB AND RITA MARLEY ON A NEW COLLECTION, TALKIN' BLUES, INSPIRED BY BOB MARLEY'S ICONIC DENIM STYLE, THAT WILL BE EXCLUSIVELY AVAILABLE AT H. LORENZO IN THE US. THE COLLECTION INCORPORATES CLASSIC MARLEY ICONOGRAPHY AND MOTIFS WITH KAPITAL'S TATTOO-INSPIRED EMBROIDERY AND PATCHWORK ON SELVEDGE DENIM WORKWEAR.   FOLLOWING THEIR FIRST MEETING IN SPRING 2018, KAPITAL'S DESIGNER KIRO HIRATA AND ZION ROOTSWEAR'S DESIGNER CEDELLA MARLEY FOUND COMMON GROUND IN THEIR STORIED FAMILIAL BACKGROUND IN DENIM, AND THEIR DESIRE TO INNOVATE THE INDUSTRY FOR THE...
---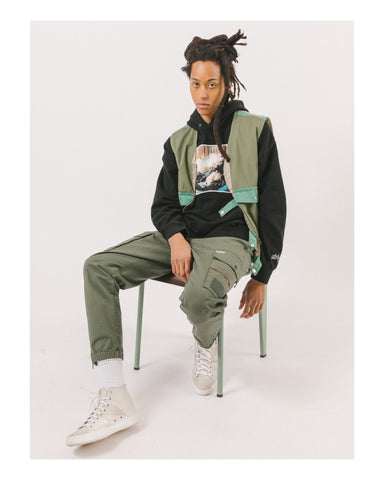 ARIEL AND SHIMON OVADIA OF OVADIA & SONS TEAMED UP WITH THE BOB MARLEY FAMILY TO CREATE A CAPSULE COLLECTION INSPIRED BY THE MULTI-FACED AND TALENTED BOB MARLEY. MARLEY WAS A STYLE AND MUSIC ICON, SOCCER PLAYER, AND MOST IMPORTANTLY A TRUE PIONEER IN USING HIS VOICE TO SPREAD MESSAGES OF LOVE, EQUALITY, AND JUSTICE. THE COLLABORATION LAUNCHED ON FEBRUARY 22, 2019.          THE OVADIAS PRODUCED THIS COLLABORATION TO SHARE THEIR RESPECT AND APPRECIATION FOR MARLEY, A ONE-MAN REVOLUTION WHO NEVER FAILED TO SPEAK WITH CONVICTION AND TRUTH. THE LYRICS FROM HIS SONG ZION TRAIN, "DON'T GAIN...
---
CEDELLA MARLEY TELLS US HOW SHE TURNED HER FATHER'S ICONIC MESSAGE OF JUSTICE INTO AN ANTI-BULLYING CHILDREN'S BOOK.    ON SEPTEMBER 10, CEDELLA MARLEY PUBLISHES HER LATEST CHILDREN'S BOOK: GET UP, STAND UP, WHICH INCORPORATES THE LYRICS OF BOB MARLEY'S ICONIC ANTHEM INTO A BRILLIANTLY COLORFUL STORY. SHE IS AMPLIFYING A KEY VALUE HER PARENTS SHARED WITH HER, AND ONE SHE PASSED ON TO HER OWN THREE SONS—THAT PROUDLY STANDING UP FOR YOURSELF AND OTHERS IS THE BEST WAY TO CURB BULLYING.PROCEEDS FROM THE BOOK, AS WELL AS FROM OUR NEW COLLECTION OF TUFF GONG TEES FOR ADULTS, KIDS AND...
---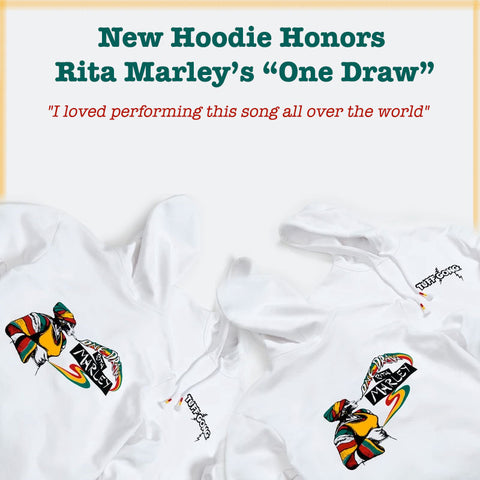 "I LOVED PERFORMING THIS SONG ALL OVER THE WORLD," RITA TELLS US. RITA MARLEY IS PERHAPS BEST KNOWN AS BOB MARLEY'S WIDOW, BUT SHE IS AN ACCOMPLISHED MUSICIAN IN HER OWN RIGHT. SHE IS NOW BEING CELEBRATED AS SUCH, FIRST WITH THE RECENT REISSUE OF HER FINEST WORK, IN A VINYL LP PRESSING, LIONESS OF REGGAE: THE BEST OF RITA MARLEY. AND THEN WITH A NEW LIMITED-EDITION SWEATSHIRT CELEBRATING HER ICONIC 1981 SONG, "ONE DRAW," AVAILABLE RIGHT HERE.   THE MAKING OF THE HOODIE  CEDELLA MARLEY COULDN'T WAIT TO GET HER HANDS ON THE SWEATSHIRT PROTOTYPE THAT WAS EMBLAZONED WITH THE...
---