Blog

On February 6, 2021, as part of Bob Marley's 76th birthday Earthstrong celebration, Tuff Gong—the music label, studio and distribution company founded by Marley in 1965—debuted the brand new Survival 76 logo, which features the word Survival climbing up the number seven in black block letters and an impassioned Bob with his fist raised in the air to form the number six.   The Significance of Survival Bob Marley and the Wailers released the album Survival in 1979, during a time of dire social and economic turmoil in Jamaica and ongoing racial injustice around the world, and it is widely...
---
When Cedella Marley published the children's book Get Up, Stand Up, interpreting Bob Marley's timeless words as a call to action against bullying, she knew she wanted to contribute to the anti-bullying cause.  She found the perfect partner in No Bully, and still donates a portion of proceeds from the book and the kids' and adults' shirts to the organization. When the Get Up, Stand Up capsule launched, we spoke with No Bully to learn more about the work they do. (You can find that Q&A here.) For this post, we checked in with Kathy Grey, the VP of Education,...
---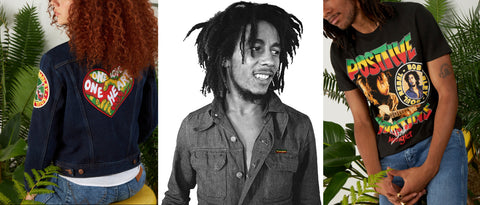 WITH EVERY COLLABORATION WE DO, WE ASK OURSELVES, WOULD BOB LIKE THIS BRAND? WITH WRANGLER, WE DIDN'T HAVE TO ASK THAT QUESTION, AS WE KNEW IT WAS ONE OF BOB'S FAVORITES. HERE'S HOW THE LINE CAME TOGETHER. THE ORIGIN WRANGLER STARTED DISCUSSING WHAT A COLLABORATION WITH THE MARLEY FAMILY COULD LOOK LIKE MORE THAN A YEAR AGO TO HONOR THE LATE BOB MARLEY, HIS LOVE OF THE WRANGLER BRAND, AND HIS FAVORITE DENIM PIECES. "WHEN WE FIRST STARTED THE CONVERSATION, I INSTINCTIVELY THOUGHT, WHAT AN OPPORTUNITY! BECAUSE BOB TRULY HAD A LOVE OF WRANGLER, AND HE WORE IT WITHOUT ANY...
---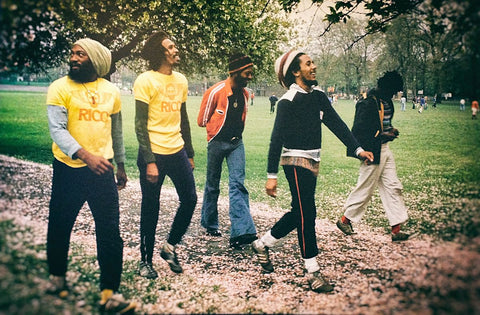 BOB MARLEY'S CLASSIC SONG HAS BEEN ADOPTED AS THE ANTHEM OF THE AJAX FOOTBALL CLUB. HERE'S THE STORY, IN HONOR OF OUR NEW "THREE LITTLE BIRDS" TEES AND HOODIES FOR GROWN-UPS AND KIDS. IT'S IMPOSSIBLE NOT TO BE MOVED BY OVER 50,000 VOICES JOINED AS ONE TO SIGN A SONG OF PEACE AND LOVE. BUT ANYONE ENTERING THE AJAX AMSTERDAM FOOTBALL STADIUM MIGHT BE SURPRISED THAT THE CROWD OF DUTCH FANS IS JOINED IN A ROUSING RENDITION OF BOB MARLEY'S THREE LITTLE BIRDS, A HIT FROM HIS 1977 ALBUM EXODUS. IT MIGHT SEEM LIKE AN UNLIKELY ANTHEM FOR THE TEAM, BUT IT'S BEEN...
---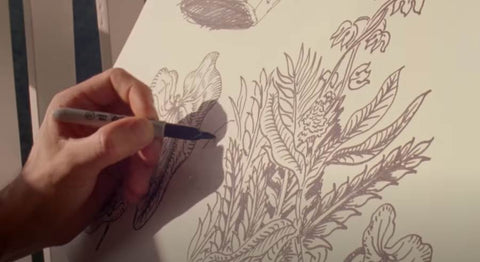 It took thousands of illustrations to make the incredible new video for Bob Marley's iconic song. We talked to the artists, Octave Marsal and Theo De Gueltzl, to learn about their process and inspiration.
---